01. NAME THE YEAR. THE COMMUNARDS HAD THEIR FIRST UK No1 SINGLE, FIVE STAR HAD THEIR ONLY UK No1
ALBUM AND DIRE STRAITS WON BEST BRITISH GROUP AT THE BRIT AWARDS.
1986
02. WHAT TWO CREATURES MIGHT YOU FIND ON A SNOOKER TABLE?
SPIDER and SWAN - admit it, who thought one of them was Parrot?
03. TALLAHASSEE IS THE STATE CAPITAL OF WHICH US STATE?
FLORIDA
04. ACCORDING TO POPULAR LEGEND A TORNADO STRUCK THE STATE OF KANSAS ON 22nd JUNE 1969, THE DAY WHICH FILM STAR DIED?
JUDY GARLAND
05. WHO OR WHAT IS A STRAWBERRY NORMAN?
APPLE
06. TOMORROW IS THE START OF THE CHINESE NEW YEAR, IT IS THE YEAR OF WHAT CREATURE?
DRAGON
07. WHICH SINGER AND MUSICIAN LEFT A FAMOUS BAND AND FORMED HIGH FLYING BIRDS?
NOEL GALLAGHER
08. PICTURE 1 SHOWS THE BADGE OF WHICH FOOTBALL CLUB?
BLACKBURN ROVERS
09. BY WHAT NAME, STILL COMMONLY USED, WAS HMP MANCHESTER FORMERLY KNOWN?
STRANGEWAYS
10. WHAT HAS RECENTLY BEEN ADDED TO THE TITLE SEQUENCE OF THE TV SHOW "EASTENDERS�
OLYMPIC STADIUM & PARK
11. IN COCKNEY SLANG IF YOU WENT OUT WITH A 'COMMODORE', SPENT A 'LADY GODIVA' AND COLLECTED THE 'PONY' THAT SOMEONE OWED YOU HOW MUCH MONEY WOULD YOU HAVE?
£35 (£15-£5+£25)
12. NAME THE YEAR. THE FIRST COMPUTER VIRUS STARTED TO SPREAD, PIXAR STUDIOS OPENED AND THE "BILLY ELLIOTT†ACTOR JAMIE BELL WAS BORN.
1986
13. PICTURE 2 SHOWS A CARICATURE OF WHICH BAND?
IRON MAIDEN
14. WHAT WILL BE THE FIRST SPORT TO BE PLAYED AT THE LONDON 2012 OLYMPIC GAMES?
FOOTBALL
15. THE CADBURY BROTHERS BUILT A TOWN TO HOUSE THE WORKERS AT THEIR CHOCOLATE FACTORY, WHAT IS IT CALLED?
BOURNEVILLE
16. WITH WHICH FILM WOULD YOU ASSOCIATE THE LOCATION IN PICTURE 3?
"WHEN HARRY MET SALLY"
17. ACCORDING TO THE NEW AD CAMPAIGN THE BEE GEES' SONG "STAYIN' ALIVE†PROVIDES THE CORRECT RHYTHM FOR CPR, BUT WHICH SONG DID IT REPLACE?
"NELLY THE ELEPHANT"
18. WHO AM I? BORN IN BRITISH COLUMBIA IN 1975, I WORKED AS A COMMERCIAL FISHERMAN DURING MY TEENS, BEGINNING AN AMATEUR SINGING CAREER AT 16. MY BIG BREAK CAME WITH A 2000 RECORDING CONTRACT. THE WINNER OF THREE GRAMMY AWARDS, I WAS ALSO BRIT NOMINATED IN 2008 AND 2010.
MICHAEL BUBLE
19. DURING 2011 MORECAMBE FC WAS VOTED AS HAVING THE BEST WHAT IN THE FOOTBALL LEAGUE – MASCOT, PIES, PROGRAMME OR TOILETS?
PIES
20. A NEW ZEALAND LOBBY GROUP IS CAMPAIGNING FOR WHAT TO BE INCLUDED IN THE OLYMPIC GAMES AS A DEMONSTRATION SPORT?
SHEEP SHAG....sorry, SHEARING
TIE BREAKER (nearest answer wins)
21. IN WHAT YEAR WAS BATH RUGBY UNION CLUB FORMED?
1865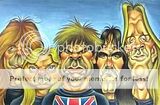 And the scores were.....
QUIZMASTER 8 1/2 (tiebreaker -)
And the winner.....
BUZZIE 13 (1895)